VFX 2011 - Celebrating 13 Years of Pixellence®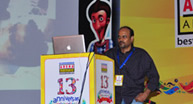 Mr. Srinivas Mohan, acclaimed VFX Expert of Indian Artists graced the celebrations as the Honourable Chief Guest. He was instrumental in creating the spectacular VFX of India's most expensive, graphics-laden, sci-fi blockbuster 'Robo' starring superstar Rajnikanth. His impressive oeuvre includes such VFX-heavy box-office hits as 'Bharateeyudu', 'Sivaji' and Boys.
Mr. Srinivas Mohan delivered a brilliantly-structured, knowledge-catalyzing presentation on the behind-the-scenes of the Rajnikanth blockbuster 'Robo' which he proudly exclaimed was a milestone in Indian cinema. It was an in-depth, step-by-step presentation that proved immensely enriching for students of Dilsukhnagar Arena, especially, the Animation and VFX students.
He later launched the latest 3D Animation Short Film 'Twisted' which was crafted by interns of DNA Inc™. Addressing the 3000-strong crowd, he was effusive in his praise for the film and commended the student team for the outstanding quality. He said that even if one has talent, one needs a platform to showcase it. That's where the careers of many deserving Artists fail to take off. Fortunately, for Dilsukhnagar Arena students, Mr. Raja Sekhar has created a superb platform for talent to thrive. DNA Inc™. is a path-breaking CG internship initiative from Dilsukhnagar Arena and the brilliant quality of the student short film 'Twisted' proves this fact beyond doubt.
Addressing a press-conference convened at the venue, Mr. Srinivas Mohan congratulated Mr. Raja Sekhar B on the occasion of the 13th Anniversary of Dilsukhnagar Arena.

Fielding a volley of questions tossed by a battery of reporters with regard to the future of the Animation and Visual Effects industry, he quipped: "in the last 6 to 7 years, Hollywood has churned out several VFX movies riding on the wave of patronage for these technologically advanced methods of storytelling. India has now picked up the baton as film makers increasingly employ VFX to enthrall cine goers."

Citing the example of the films like 'Robo', he said: "there is a huge market for VFX in India and well-trained talent is the need of the hour. There is a big boom and the career opportunities are overwhelming."
Mr. Naveen Medaram, VFX Expert from UK graced the Anniversary Celebrations as a Guest of Honour.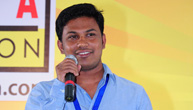 He is an immensely successful alumnus of Dilsukhnagar Arena and a live example of the outstanding Digital Media talent that India's Largest Digital Media Academy has been grooming for the past 13 years. He worked at the globally renowned VFX studio 'Double Negative' in UK where he had the opportunity to collaborate on several Hollywood films.

Mr. Naveen delivered a presentation on the Visual Effects of the Daniel Radcliffe starrer 'Harry Potter and the Order of the Phoenix'. He also screened a VFX montage of assorted Hollywood smash hits including Batman, Poseidon, 10,000 BC and Pirates of the Caribbean.
Post the presentation, he shared his working experiences in the VFX industry and took career-related questions from enthusiastic students. Responding to one student's concern on how to pursue a successful career in the VFX industry, he said there's no magic mantra except hardwork and emphatically quoted his father: "even if you stitch shoes, do it so well that you are the best in town."

Participating in a press conference along with Mr. Srinivas Mohan and Mr. Raja Sekhar B, CEO of Dilsukhnagar Arena, he said that he was elated to see his alma-mater emerge stronger with each passing year. He recalled that Dilsukhnagar Arena was a small institute with a handful of students way back in 1998 and said he was proud to see it evolve into a world-class Digital Media Academy today.

When questioned on the mediocre Animation & VFX talent in India as compared to Hollywood, he said, you may have watched the 3D Animation short film 'Twisted' crafted by students of Dilsukhnagar Arena. The content and quality is simply world-class and anybody who harbours even an iota of doubt in this regard is sure to change his opinion. I was blown-away by the film 'Twisted' and I can say with conviction that any Animation Studio Head who sees the film will be eager to offer jobs to the team of students from Dilsukhnagar Arena which crafted the film.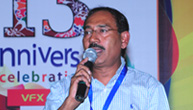 Mr. Basireddy, CEO of Digi Quest Studios, Hyderabad, graced the event as a Guest of Honour. In his address, he exhorted students to chase excellence and said that the Media & Entertainment industry thrives on quality, both in terms of creativity and technical competence. He said that the Animation and VFX industry is experiencing exponential, year-on-year growth as new projects are flooding studios across the country. Stating that there are plenty of jobs opportunities as a result of the surge in demand for experienced Artists as well as well-trained and adequately-equipped freshers, Mr. Basireddy encouraged students to pursue their career dream in Animation and VFX.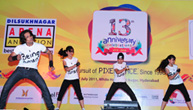 The presentations were punctuated with a string of enthralling performances by students and staff. While one team set the stage on fire with an electric group dance performance, another team sent the audience on an unstoppable laugh-riot with a brilliantly penned and enacted play. Celebrations touched a feverish-pitch as the auditorium reverberated with whistles, hoots and claps at the end of every performance. Not until the fag end of the day did the excitement die down.
As the day drew to a close, Mr. Raja Sekhar B, CEO of Dilsukhnagar Arena thanked all the invitees for attending the celebrations and for making it a grand success. He presented mementos to the Chief Guest, Guests of Honour and a few staff members of Dilsukhnagar Arena.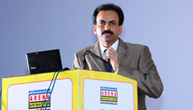 Mr. Raja Sekhar urged students not to get influenced by any external developments which at times affect the training programs and reassured them of Dilsukhnagar Arena's commitment to world-class education. "Your career is more important than anything else, so Focus, Achieve and Inspire", he thundered, as the audience turned into a symphony of claps. An Eye-for-Detail, Technical Competence and Good Communication Skills are the three pre-requisites for a successful career: qualities that will help you earn rewards and awards he said, before announcing the much-awaited award-distribution ceremony. He personally presented the prestigious PRODIGI Awards to all winners signaling the end of the most eventful Anniversary Celebrations in the history of India's Largest Digital Media Academy.
Click for images